From Dawn to Dreams
Poems for Busy Babies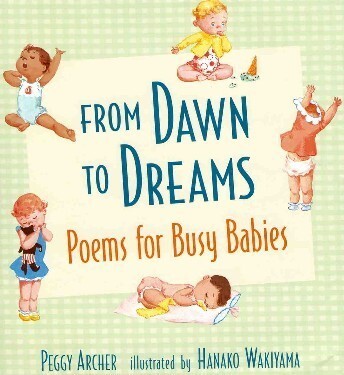 "Archer offers a little book of baby rhymes with a feeling of the past. It's hard to resist "Giggles"—"Wiggle my ears / And wiggle my nose, / 'Cause wiggles make giggles— / That's how it goes." Dad, Mom, PapPap and big brother all make appearances as the verse, always in Baby's voice, addresses shadows, first steps, making messes, taking a bath and other baby events. Wakiyama's pictures, generally on ivory backgrounds, use vintage colors, Kewpie-doll faces and '40's-inspired motifs to cheery effect...." (Picture book. 3-5)
Jun 01, 2007 - Kirkus Reviews

PreS--Beginning with the tender "Good Morning, Baby!" and ending with the cozy "Rocking," 15 poems cover the gamut of activities in which babies and toddlers participate: a first step, clomping around in adult shoes, exploring faces in a mirror, introducing oneself to the family cat, and so on. "Splish! Splash!/ Take a bath/Here in the big white tub./Bubble me clean/Like a beauty queen/And wrap me in a hug!" The oil-on-paper illustrations are in a style reminiscent of art in the 1950s. On various pages, the text is surrounded by a zigzag frame that adds to the old-fashioned feel. The plump children, some with pink skin, a few with tan, have rounded tummies and a variety of hair and eye colors. Dressed in onesies, ruffled outfits, or just a towel, they sport happy, curious, amazed, and satisfied expressions as they soak up new information gained through their five senses. A sweet tribute to young children.
-School Library Journal, July 1, 2007. Maryann H. Owen, Copyright 2007 Reed Business Information.

"Here's baby's very first anthology that you will read again and again simply because it expresses in sweet rhyme and nostalgic illustrations everything your little wonder does in a day. These 15 rhythmic poems with sound words galore will have your baby cooing with delight—from dawn to dreams! Also makes a great baby gift."
—Children's Book of the Month Club (cbomc.com ) May 2007
Member's Review: "The pictures are adorable, and the rhymes are catchy enough for both an adult and a one-year-old to enjoy."

FROM DAWN TO DREAMS was nominated for the 2007 Cybil Award in the category of Children's Poetry.

FROM DAWN TO DREAMS received a letter of merit from the Society of Children's Book Writers & Illustrators Work-in-Progress Grant committee in 2002.