Turkey Surprise
New York Times Bestseller!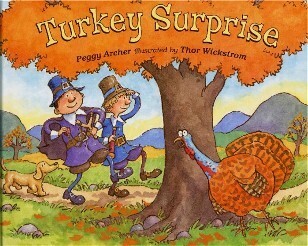 "Two pilgrim brothers set off to hunt up a turkey for Thanksgiving dinner. "We'll pluck him, and stuff him, / and cook him up right. / We'll gobble, gobble turkey / for dinner tonight!" Their song forms a refrain throughout, but the smaller pilgrim brother begins to have second thoughts. He most certainly sees a terrified turkey a number of times, but he always leads his brother in another direction. Meanwhile, Turkey tries hiding in a tree, a gopher hole and a pond-with disastrous results. Then small pilgrim brother helps Turkey hide in a woodpile, and the two boys take home a huge pumpkin for dinner instead. Vegetarian storytellers now have an excellent companion to Dav Pilkey's Twas the Night Before Thanksgiving (1990) for their cruelty-free holiday storytimes. Wickstrom's high-spirited hunting brothers and the most expressive turkey in recent memory are a perfect match for Archer's sweet hide-and-seek story. Even the most carnivorous listeners will enjoy this yummy addition to any collection."
Kirkus July 1, 2005
PreS-K. "Here's a Thanksgiving picture book for vegetarians. Two Pilgrim brothers hunting for a Thanksgiving turkey sing a rhyming chant ("We'll pluck him and stuff him, / and cook him up right"). The cheerful line-and-watercolor pictures show the turkey hiding from the hunters--in a tree, a gopher hole, a pond, and a woodpile. The littlest Pilgrim isn't sure he wants to pluck out the turkey's feathers, stuff the bird with breadcrumbs, and cook it, and he eventually persuades the bigger Pilgrim that there are more delicious things than turkey to bring home for the feast. Hunters and hunted are treated with a light touch, and kids will identify with the turkey as well as with the small Pilgrim, who changes his companion and turns things around. The final spread says it all, showing the family enjoying a delicious feast as the turkey peers through the window."
Booklist, Hazel Rochman, Copyright © American Library Association.
""We're two mighty pilgrims/ coming your way./ Looking for a turkey/ for Thanksgiving Day" goes the refrain of Turkey Surprise by Peggy Archer, illus. by Thor Wickstrom. The "mighty pilgrims" in this paper-over-board tale are brothers who'd rather not harm the bird, so they bring home a pumpkin instead."
Publishers Weekly, Copyright 2005 Reed Business Information.


"Two pilgrim brothers hunt for a turkey on Thanksgiving Day. They sing about how they will "gobble, gobble turkey/for dinner tonight." Yet the younger brother has second thoughts: he is not so sure he wants to "pluck him, and stuff him/and cook him up right." Nevertheless, the brothers continue with their search, the older pilgrim carrying a sling shot and the younger a spy glass. Meanwhile, a "turkey . . . in a tizzy" tries hiding from the hunters. He flies into a tree but all the leaves blow away, sticks his head and neck into a gopher hole but cannot get his body in, and jumps into a pond where he cannot breath. All the while, the pilgrims are on his trail, with the younger pilgrim pretending he does not see the turkey. Finally, the younger pilgrim helps the turkey to hide behind a woodpile and convinces his brother to take home a big pumpkin from the pumpkin patch instead. On the last spread, the children and their parents are shown having a Thanksgiving meal with all the trimmings, but no turkey. The surprise is a vegetarian dinner with pumpkin pie as the centerpiece! The turkey and some animal friends gape from outside the window. The illustrations (including an overview of the landscape) take the reader along the pilgrims' path from their house and back. Not only will early readers have fun with the story, but they will think twice about eating turkey for Thanksgiving."
Carol Raker Collins, Ph.D. - Children's Literature
"...This perfect read-aloud story for the very youngest has repetitive refrains, gentle jokes, and goofy poems..."
The Book Report, California Kids, 11/2005
Turkey Surprise is on the accelerated reader list at Renaissance Learning, and is listed at 2.9 grade level.
Turkey Surprise was on Baker & Taylor's Books for Growing Minds list in 2005